MacDill AFB, Tampa, FL
Post 8108 provided a $1,000 MAP Grant to the USAF 6thAMW. Flying Boeing's mighty KC-135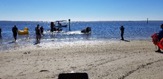 Stratotanker, the 6thWing is the parent command governing MacDill AFB. The Wing provides global aerial refueling operations and mobility operations. The Wing oversees all operations supporting the 40,000 service members and civilians working at CENTCOM, SOCOM, and other major commands.
Post 8108's MAP grant provided funding for the annual 6thAMW Regatta. This November event takes advantage of the warm Tampa Bay waters pitting base wide teams in a cardboard boat design and race challenge. This event is in its 16th year and is highly competitive; a Post member won the race several years ago while serving on base.
The regatta saw 400 service members and their families cheering on the brave mariners who paddled, kicked, and swam their way toward the finish line. After many dramatic sinkings the group was treated to a hot dog and hamburger BBQ lunch. Post member John Lehmann presented the Deputy Wing Commander with a ceremonial $1,000 check and served as a judge for Best Design.
Sponsoring the event gave the VFW and Post 8108 considerable exposure to the MacDill AFB community and was an excellent venue to show our support to the troops who deploy world-wide year long. For 2019 Post 8108 plans to expand their outreach to several more tenant commands.